Download version 2.2 now!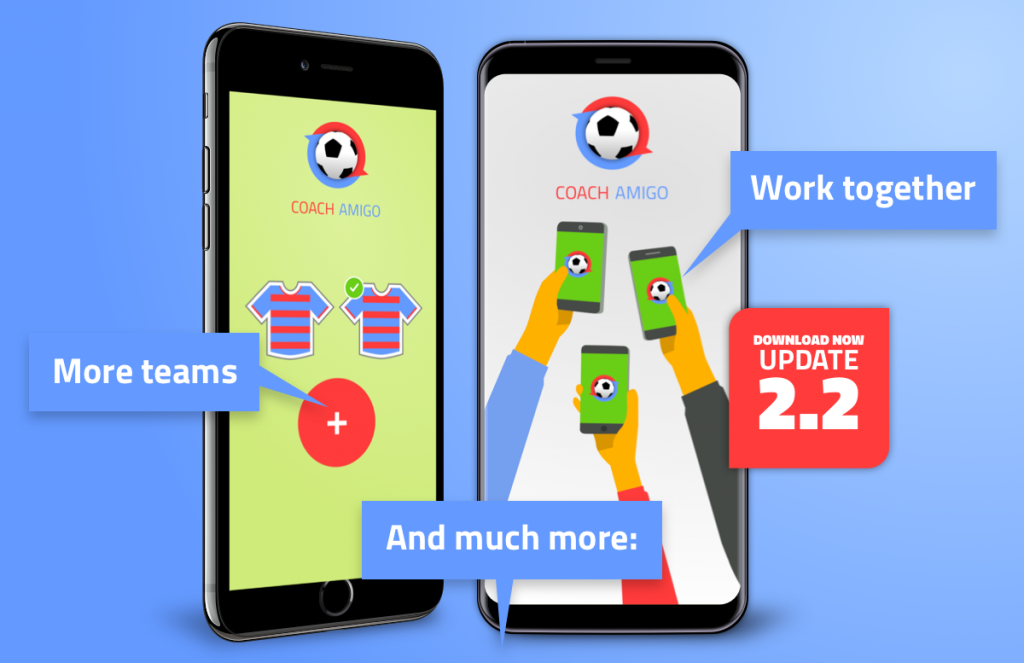 12 November 2018

That was a lot of hard work to overcome the last problems! We'd love to hear what you think of this update. There has been a lot of new development in the core engine of the app. This results in much better performance, especially on older devices. Easier matches set up In addition, a big bunch of features and refinements has been added. From now on you can arrange everything that has to do with how your team plays their matches: standard setup, number of players on the pitch, match time, substitution management yes or no … This ensures a quick set up of all new matches. And you'll be ready to play a match almost instantly! Importing a calendar from Voetbal.nl Also added (on your team): the possibility to use an external calendar link. Specifically the iCal (calendar) link that you can purchase in your voetbal.nl app from your team. Simply add the link in Coach Amigo and all upcoming matches are automatically synchronised! When there are adjustments you can simply sync again and all new data will automatically update without it affecting your precious preparation work. (We will work in the future on making this feature available for other countries)

Work together at the same time! This is really super-super-super (and then a few times) handy: you can now login at multiple devices at the same time (using the same credentials). And work on the same team. Especially during the matches this is very likable. Because now you can divide the tasks with each other. Copy and paste New in this version: you can copy complete matches, match settings or parts thereof (halfs, exchange blocks) and paste them somewhere else. Hold your finger on a match in the match overview for a moment and a nice little menu will appear. This way you work even faster when preparing your matches.

More teams! Frequently asked and now for real: you can now manage / create multiple teams (up to 3 currently). Super handy again, you can distribute a selection of players across multiple teams and then start playing matches … Uh … we're almost there. In the app everything is fully prepared, we are now finalising our PDF tool which automatically generates PDFs of your matches. To make things even more clear, the list of modifications and additions:
Work with others at the same time
Copy & paste matches and settings
Start ultra fast thanks to standard settings at your team
Create and manage more teams (up to 3 max)
Exporting match data to datafile or PDF
Notification center: we keep you informed of important news about the app
Speed ​​improvement (especially for older devices!)
Privacy option (do not show photos on the Livestream)
Shirts and teams all added (Dutch clubs, other countries can input teams themselves)
Statistics now work as intended
Great save added
Match that 'still plays' is now shown in the app (you can also quickly enter the game again)
Make adjustments and additions to the stream during the halftime break
Reorganisation of settings and preferences (we find this more logical ;-))
Standard formations added
Play minutes correctly registered
Manual forced sync by pressing little ball in the menu
Password can be visible during input
Added: App media library management page
Available modules overview added
Archiving of players is now also possible
Number of new shirt types
Bug fixes and more bug fixes
Please let us know your remarks on this version, send us an e-mail, we're looking forward to it! Thanks for all the support we've received in the past months! (we will add more tutorials in the next weeks to explain all the new features in more detail)