The Coach Amigo


"

fun

=

development

"

vision

The idea for the Coach Amigo app originated from our personal experience that something as simple as 'fair playing time distribution' quickly results in much more fun and enthusiasm. And we saw (and see) that fun simply makes everything more enjoyable. That fun also improves performance. And doing so it ultimately ensures the best development that you can experience as a coach and player. But we've also experienced that it is quite a hassle to get something as simple as 'fair playing time distribution' right.

Based on this 'fun = development' vision, we have been working for some time on the platform that Coach Amigo has now become. With live streams that help fans, parents, friends, grandpas and grandmas feel even more connected to the team. With handy apps for Android, iOS and PC or Mac. With which you can collect and discover a lot as a coach.

What once arose from the need for 'fair playing time distribution' has grown into a mature platform that not only makes youth and senior teams and coaches happy.

What are we going to do tomorrow?

We are working every day with our personal drive to take Coach Amigo further and further. And we still have a lot of plans on the shelf that we want to get off those shelves in the near future.

We are looking for a strong partner. Are you interested? Send us an e-mail!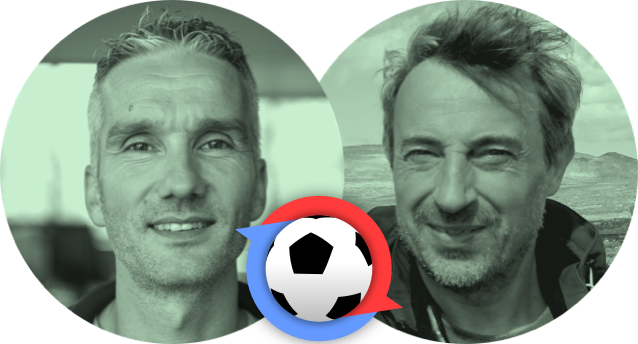 Virgial & Nico
Founders Coach Amigo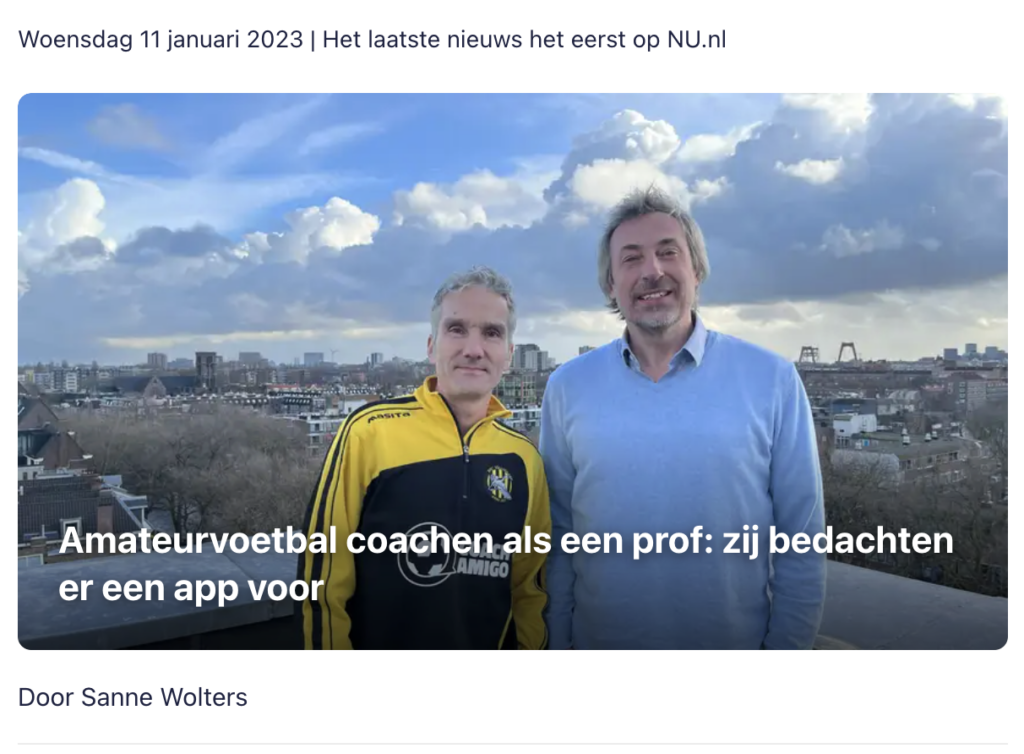 Attendance request tool
[almost there!]
Send players an e-mail or a whatsapp (or other social) with the request to indicate whether they are present at the match (or training). You can see the statuses directly in the match. Also works when players are not 'busy' with email. Players (or their parents) do not need an account!
Club/Group dashboard
[in progress]
A club/team group management environment where you can manage and assign teams to coaches and assistants. Players can be managed and assigned to team selections. And of course, coaches create an amazing statistics board together with all the data.
Extensive statistics
[in progress]
Coaches are gathering a lot of data within the Coach Amigo app. All this data will be clearly organized and presented. It will also be possible to compare data yourself. This way you can follow players and teams in their development in great detail.
Fan-app
Especially for the fans of your team. Here they can follow the live stream that you manage as a coach. During the match, they will have the opportunity to add photos, videos, comments and more to this live stream. This creates a great match report, worth watching, sharing and archiving.
Tactics
You will soon be able to work out running lines, pass lines and more tactical elements in a tactics board and show them to your players during training and matches. Or prior to a match.
Hockey
Football is not the only sport that will benefit from Coach Amigo. A hockey coach can already work with the current version, but we will certainly focus on a further development of Coach Amigo for enthusiastic Hockey coaches!
Desktop-app
[done]
Here you can work on your lineups & tactics while enjoying the big screen. You will also be able to assign your team to an assistant coach or analyze all data and statistics that you have collected in the meantime. Visit the Coach Amigo desktop app here.
Shot-position
[done]
Give in the exact position of goals, shots hit the post or crossbar, or those that all landed outside the goal. This will also be reflected later in the statistics that you build up with your players and team.
Overtime + penalty shootout
[done]
After the match you'll have the option to go to overtime or complete the match with a penalty shootout. You can set overtime in minutes. You will also be able to indicate where exactly the taken penalty lands in the goal or on the post / crossbar.
Team-page [done]
The team page is your team's central place where upcoming matches are announced, where the live stream will always be available. This way, fans have a place to fall back on, if you forget to share the live stream, for example. You always decide whether data is visible or not.
Training sessions [done]
Ability to set up training sessions. Launched as a standalone app Trainer Amigo. Log in with your Coach Amigo account. Indicate who is or is not present. And rate individual player development.
Ratings [done]
After the match you have the opportunity to rate the efforts of players and team. You do this on the basis of motivation, skills and insight. Or just generally, you'll be ready even faster. This rating system has also been applied to Trainer Amigo.
Your ideas!
We have already created a lot of ideas, but you may also have a valuable addition to the Coach Amigo platform: just let us know!